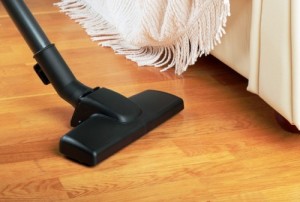 Nowadays, people seem to be more interested in laminate wood floors than hardwood floors. Hardwood floor is indeed absolutely more durable and last for a lifetime, however, the high price makes it hard for several people to afford this type of floors. This will be a huge problem if you want to have the beauty of wood floors decorating your house meanwhile you do not have enough budget to afford it. Fortunately, the manufacturers these days have created an advanced innovation as an alternative for the expensive hardwood floors you have been dreaming about. They offered laminate wood floors in replacement for the hardwood floors you cannot afford. What is actually laminate wood floor? How to clean laminate wood floors? And how to maintain laminate floor so it will last longer? All of the questions uttered about laminate wood floor will be discussed in this passage, so read further to find out.
Actually, wood laminate floor can be called as the replica of hardwood floors. They are probably similar in appearance but totally different in a lot of points. This type of floor is actually made by compressing original wood then backing it so it will be a plank of laminate wood floors for easier installation. This is the exact reason why this type of laminate wood floor is far cheaper than original hardwood floor. Indeed, the quality they bring is absolutely lower than original hardwood floors. Though laminate floor is said to be more fragile but you can still keep them longer if you have the right maintenance techniques.
The installation process is said to be significantly easier than the installation process of hardwood floors, however, cleaning this type of floor is another different story. There are a lot of stated that they do not know how to clean laminate wood floors correctly. They said that they are partially afraid to clean it regularly since laminated floor is said to be more fragile than hardwood floors. The last statement is indeed correct but it does not mean that you cannot clean it properly, does it?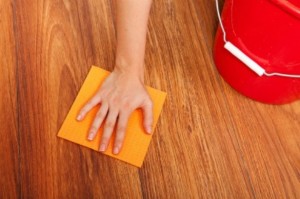 One important point you need to keep in mind in this matter is that you have to use the right equipments and tools so you can get a safe and successful maintenance and cleaning process. In order to do this correctly, you will need several equipments such as dry towel, dry swiffer type sweeper, soft broom, mop and mild liquid soap. Remember that hard bristle broom and also strong floor soap will definitely scrap your laminate wood floors so you have to throw away these two things from the list.
Once you have gathered all the required equipments now you can get to the main steps on how to clean laminate wood floors. First of all, you can start sweeping the floors using soft broom so the dust can be removed from your laminate floors. Afterwards, you can remove the remaining debris using swiffer sweeper. After making sure that the floors are completely free from dust and debris then you can clean it using mop and mild liquid soap. You can use warm water to rinse them clean and remove the remaining soap. For the last touch, wipe up the floors immediately using dry towel so they will not get slippery. Tada! You will have a completely new look of your laminate wood floors.