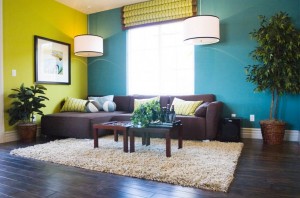 Living room is a place where you will feel relax and able to hang out with your family and friends. Thus, having a nice living room, not only the decoration, but also wall colors will enhance this exciting experiences. There are lots of painting ideas for living room to help you get the experiences. From conservative to modern theme, you can get it with choosing the right painting colors. Keep in mind that since living room now become the place to receive guests as well, you may want to add your family`s personality on it.
How To Choose Paint Colors For Living Room?
First thing to do is to find the styles you want to have. You can find it from interior magazines, websites or interior showrooms. Each colors will create different vibe, so you have to see which vibes you want to have in your living room. Furthermore, your wall materials also can determine the color theme that suits your living room. For example, natural stone wall would look great with natural color combination, suc as brown, cream and gold.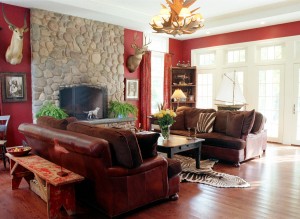 It is most recommended to choose the paint colors that can make you feel comfotable and relax. Thus, when choosing the painting ideas for living room, you can use the color boards to see which one is suitable with your requirements. For instance, having brown and terra cota colors with natural lighting from windows will make your living room looks warm and cozy.
You also need to determine the finishing touch of the painting. The faux finishing will make your living room`s wall look unique and create dimentional feeling on it. Use sponge, bags or other materials to create unique look of the painting. You can also use the faux finishing for wooden furnitures or fireplaces to make it look old fashioned and antique. There are lots of other ways to finish the wall painting in living room with considering the other elements in it.
If possible, to create dynamic look, you can paint one side of the wall with different color and make it as the focal point in the living room. You can choose even the extreme colors so you have the wow effect from everybody who see it. This will also help you to shape your family`s personalities in the living room.
Another Wall Ideas For Living Room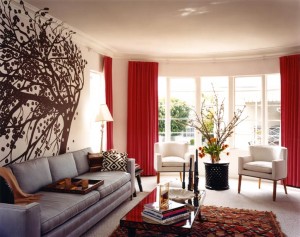 Other painting ideas for living room that are unique and different is to make murals or stenciling. Your wall will look sophisticated with the touch of creativity that does not found in other living room easily. Stencil is much easier than murals. You simply attach the stencil materials on the wall and paint it with contrast paint colors. With this wall painting, you can use it the focal point of your living room. Meanwhile, the murals might be quite a challenge, but the result will be more personalized.
Painting ideas for living room can be quite challenging, especially if you make it from scratch. However, with looking for the right colors, ideas and themes, you can get your own personalized living room that can fulfill your and your family taste.