Mirror is definitely a great addition that warrants detailed attention in case you are conducting a bathroom remodeling project. Mirror will not only enhance the appearance appeal of your bathroom but it will also give a significant functional value as well. However, although mirror can be a decorative addition to your bathroom, on the other hand, finding the most suitable model of bathroom mirror can be a complete different story to be discussed. You need to also consider the existing theme and style of your bathroom so you can get the most suitable mirror style so they can be a great harmony. Do not need to worry, this time we will talk about several bathroom mirror ideas you can take for more serious consideration later on.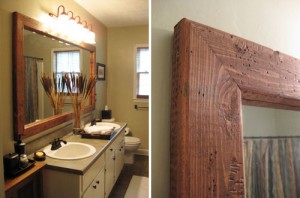 Traditional Bathroom Mirror Style
This is probably the commonest and most usual mirror style you can find out there. Generally, this style of bathroom mirror is decorated with wooden frames to enhance the traditional look of the mirror. To enhance the traditional look of the bathroom mirror, you can also install a wrought light on either side of the mirror so it can create classic atmosphere to your bathroom. There are several types of wooden frames you can choose in the market so you just have to choose a wood type that have similar grain and also color with your existing bathroom theme.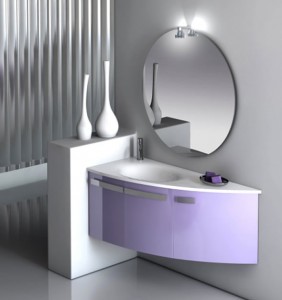 Contemporary Bathroom Mirror Style
If you do not like the traditional style of bathroom mirror then you can turn your attention to bathroom mirror that is more contemporary and modern. These days, this type of bathroom mirror is very popular since it can match well with minimalistic and contemporary styled house. The modern look and simplicity it brings will definitely a great addition to your contemporary bathroom. Contemporary bathroom mirror style is known as a simple type of bathroom mirror ideas. You can just simply hang a plain mirror on the wall above your bathroom vanities can also do the magic. In addition, you can also complete the look by installing metallic frame and also contemporary light on each side of the mirror to enhance the look.
Full Length Bathroom Mirror
This is also another suggestion of the most popular bathroom mirror ideas you can surely take for consideration in the future. Actually, this kind of bathroom mirror will be perfect to match your modern style bathroom. Its simple dimension has the same power as contemporary bathroom mirror, however, it has more significant functional value. The full length mirror will not only reflect your whole appearance from head to toe whenever you want to do a final check out before you go for a party but it will also able to do the magic in creating wider sense to your bathroom. Therefore, this type of bathroom mirror will be a perfect choice for you in case you have small bathroom.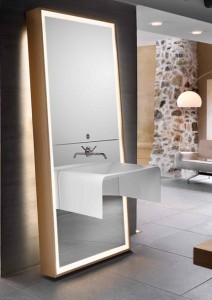 All of those suggestions of bathroom mirror ideas are available in the markets so it will not be a hard task for you to find your favorite style. However, you have to also consider your budget before purchasing an item since some of those modern bathroom mirrors can extremely be costly.