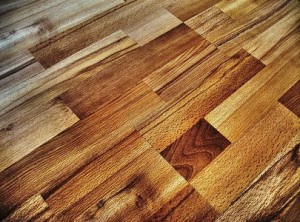 Installing hardwood floor can be pretty costly, therefore, there are a lot of people opt for installing laminate floors instead. However, although this is claimed to be a cheaper and more cost effective way of flooring idea, but it does not mean that the maintenance is also that simple as well. In fact, you will need extra attention in the cleaning process since this kind of flooring type is typically more fragile than hardwood floors. In order to help those people who are facing this same problem, here we will talk about some tips on how to clean laminate floors in simple and easy way. Hopefully, with the information given in this passage there will be a lot of people who feel at ease in cleaning their laminate floors.
As it has been mentioned before, cleaning laminate floors is actually not an easy task since they are typically softer than any other hardwood floors. Why is that so? What is actually laminate floor? Simply to say, laminate floor is actually a flooring type that are made of compressed and backed wood. This is like an economic and practical version of hardwood tiles. Therefore, it is not surprising that this flooring type is far cheaper than hardwood floors. Since this is made of compressed wood then it is also natural for this kind of floor type to have lower durability. Under all of those conditions, the maintenance will also be harder, for sure.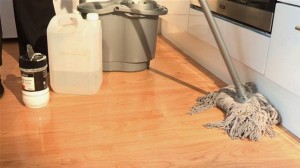 Actually, the tips and points on how to clean laminate floors are quite simple despite the fragile state this kind of floors possesses. First of all, you need to remember that laminate floors can be easily scratched so you need to use the right equipments and tools to clean them. You can use vacuum cleaner with no beater bar so it will not harm the surface of your laminate floors. Do it regularly then your laminate floors will stay clean and healthy.
You can also use a sweeper aside from the vacuum cleaner you regularly use. You can use a swiffer or dust mop, in this case, occasionally when you are not vacuuming your laminate floors. You have to take note that using a broom is definitely a big NO for cleaning laminate floors. The broom's palm fiber can potentially scratch your laminate floors so you have to avoid this.
In addition, you can also mop your laminate floor using warm water with mild liquid soap once in a month. Remember to use a little amount of soap so it will not make your laminate floors too slippery later on. The same also goes to the water, remember to use warm water not hot water so the furnishing of your laminate floor will not be scrapped in the process.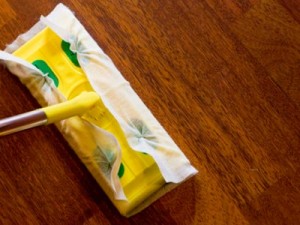 All of those tips on how to clean laminate floors will certainly be better if you also keep the laminate floors from dirt and spill. For example, if you accidentally spilled something, especially sticky substances, onto the floors then it will be better if you directly cleaned them. This will be great for your laminate floors, trust me.